Spanish Mediterranean Chicken Casserole
This Mediterranean chicken casserole will bring the flavors of Spain into your kitchen.   The chicken is cooked in a tomato based sauce, lightly spiced with paprika, which is partially cooked and reduced on the stove top first.  This is the secret to its flavor.    Reducing the sauce intensifies all the flavors, bringing them all together into a rich melting pot. 

Then your chicken will emerge from the oven smothered in this rich, tasty sauce with the meat literally falling off the bone.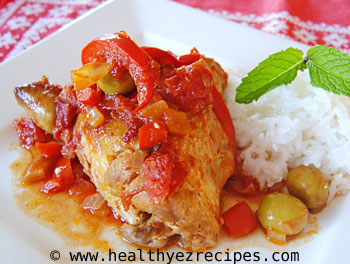 Preparation time:  20 minutes
Cooking time:  1 hour 30 minutes (doesn't include resting time)
Serves 4

Ingredients

   2 tablespoons olive oil
   1 kg / 2 lb chicken pieces
   1 large onion, chopped
   2 garlic cloves, crushed
   2 teaspoons sweet paprika
   1 large red capsicum (pepper), chopped
   ½ cup white wine
   1 can chopped tomatoes
   2 tablespoons tomato paste
   ¾ cup green olives


How to Make

Step 1

Preheat the oven to 180ºC / 350°F. 

Heat the oil in a large heavy-based frying pan and add the chicken.  Cook over medium heat in batches until browned on both sides.  Transfer the chicken to a 16 cup casserole dish and set aside.

Step 2

Add the onion, garlic, paprika and capsicum to the frying pan and cook for 5 – 8 minutes or until the onion is softened.   This will release all the lovely flavors of the paprika.

Step 3

Add the white wine to the pan and cook for 2 minutes.  This has the effect of reducing the wine and intensifying its flavor.  Then add the tomatoes and tomato paste and continue cooking for a further 2 minutes.  The sauce will thicken slightly.

Step 4

Pour the tomato sauce over the chicken in the casserole dish and add 1 cup water. 

Cover the casserole dish and bake in the oven for 1 hour 15 minutes.   Remove the lid and return to the oven to cook for a further 15 minutes.

Remove from the oven and add the olives.   Leave to sit for 10 minutes.  The olives only need to heat, they don't need to cook. 
Serve with rice.