Homemade Hummus Dip -
Healthy Alternative for Spreads and Sandwich Fillings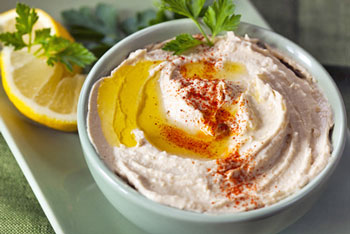 Everyone needs a good hummus dip in their repertoire.    Hummus is one of those amazingly versatile recipes that can be served as an appetizer, a quick snack or at a party.  Use it as a low fat spread on flat bread or sandwiches instead of butter.

As it's not too difficult to make and tastes far superior to the store-bought variety, why would you not want to make it yourself?

There are basically two methods for making hummus:  one using dried chickpeas and the other the canned variety.
The purists usually prefer to use dried chickpeas.  This requires soaking the chickpeas overnight then cooking them, which can be time consuming.

So, for the time-poor we have also included an easy recipe using the canned variety. 


Quick and Easy Hummus
Ingredients

   400g / 15 oz can chickpeas (garbanzo beans)
   Juice of 1 large lemon
   6 tablespoons tahini (sesame seed paste)
   2 tablespoons olive oil
   2 garlic cloves, crushed
   Salt and pepper
   Chopped coriander (cilantro)
How to Make

Drain the chickpeas, reserving a little of the liquid, then rinse well with tap water.

Put the chickpeas and some of the reserved liquid in the bowl of a food processor and blend. Gradually add the remaining reserved liquid and the lemon juice and continue processing until smooth.

Stir in the tahini and all but 1 teaspoon of the olive oil. Add the garlic, salt and pepper to taste, and continue to blend until you have a smooth, thick paste.

Spoon the hummus into a serving dish and smooth the top. Drizzle the remaining olive oil over the top, garnish with chopped coriander and paprika. Set aside in the refrigerator to chill until ready to serve.
---

Hummus Dip
Ingredients

   200 g / 7 oz dried chickpeas
   2 tablespoons tahini
   2 cloves garlic, crushed
   2 teaspoons ground cumin
   1/3 cup lemon juice
   2 tablespoons olive oil
   Large pinch of cayenne pepper
   Extra olive oil, to garnish
   Paprika, to garnish
   Chopped flat-leaf parsley to garnish


How to Make

Rinse the dry chickpeas several times until the water is clear, and drain. Then soak in 4 cups of water with 1 tablespoon of baking soda added, for 8 hours or overnight. The baking soda helps to soften them.

Place the chickpeas in a colander and wash really well to rid them of any soaking water.

Place in a large saucepan with 8 cups fresh water (enough to cover the chickpeas by 5 cm / 2 inches). Bring to the boil on high, then reduce the heat to low and simmer for 1 hour 15 minutes, or until they are very tender. Skim any scum from the surface.

Drain and reserve the cooking liquid. Place in a colander and rinse very well until all traces of cooking liquid have been removed. Remove any loose skins.

Place the still warm chickpeas into the bowl of a food processor, add the tahini, garlic, cumin, lemon juice, olive oil, cayenne pepper and 1 ½ teaspoons salt and process until smooth.

With the motor still running, gradually add enough reserved cooking liquid, about ¾ cup, to form a smooth creamy puree. (You can either use the cooking liquid or warm water).

Spread the dip onto a flat bowl or plate, drizzle with oil, sprinkle with paprika and scatter the parsley over the top.
---
Serving
Hummus is best made the day before to allow the flavors to develop.  When ready to serve give the hummus a good stir and garnish with fresh herbs.

Serve with crackers, fresh vegetable sticks or pita bread.

Use extra virgin olive oil.  This will improve both the health and flavor of the hummus.