Dress Up Your Party With This Guacamole Recipe

Homemade guacamole is so easy to make and tastes so good, you will never be tempted to go out and buy the ready-made variety again.  I've lost count of the number of guacamole recipes I've tried over the years, but they all start with the same thing:  good quality avocados. 
Personally, I swear by the Hass variety.  Don't make the mistake I once made and try to make guacamole with hard avocados.  It simply won't taste the same.
It's often hard to buy them ripe (at least in my neck of the woods), so leave them out to soften then store in the fridge once ripe. 
How do you tell if an avocado is ripe?
Easy.  Gently press your thumb into the top near the stem - if it gives slightly, it's ready to be made into my super-healthy, super-tasty guacamole recipe.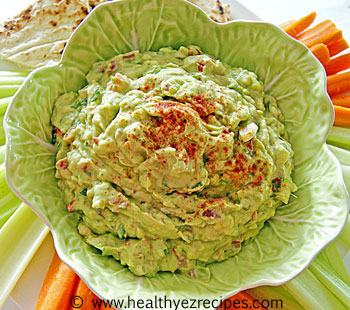 Preparation time:  20 minutes
Cooking Time:  Nil
Makes:  2 cups

Ingredients

   2 large ripe avocados
   2 tablespoons lime juice
   1 tomato, seeded and finely diced
   1 fresh red chilli, finely chopped
   2 tablespoons finely diced red onion
   1 ½ tablespoons chopped fresh coriander leaves (cilantro)
   1 ½ tablespoons sour cream
   ½ teaspoon ground cumin
   Pinch of cayenne pepper
How to Make
Peel the avocados, discard the stones and chop the flesh.  Learn How.
Deseed and finely chop the tomato, chop the chilli, red onion and coriander leaves. 

Stir in the diced tomato, chilli, onion, coriander, sour cream and cumin and mix with a fork until well blended. Season to taste with salt and pepper.
Cover with plastic wrap and leave to sit in the fridge for at least an hour.  This allows all those wonderful flavors to mix together.  

Serving
Place the bowl in the center of a platter and serve with tortilla chips, corn chips or nachos.
Storing
Avocado, once exposed to air, turns brown.  This is the reason why either lime or lemon juice is always added to the recipe.  It helps prevent the oxidation process. 

If you aren't intending to serve your dip immediately, place it in a container with a lid or cover with plastic wrap.  Place the plastic directly onto the dip to prevent it browning.  Store in the fridge until ready to use.   

Guacamole isn't long keeping, so I recommend making it on the day.   Once the dip turns brown it really doesn't taste or look that great.   
But it will disappear so quickly that won't be a problem.