Honeyed Greens Recipe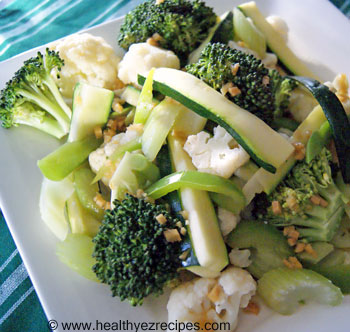 How do you transform ordinary greens into an amazing culinary experience?
Take a plate of steamed veggies and add a ginger honey based dressing.
We all know that we should eat more greens.  But the thought of a plate of boring boiled veggies really doesn't inspire us greatly.   What we need to do is jazz them up with this honeyed greens recipe. 
First forget about the boiling part.  Steamed vegetables keep their color and their texture much better.  Then add a tangy sauce or dressing.
You will never go back to ordinary boiled vegetables ever again.
---
Preparation Time:  15 minutes
Cooking Time:  10 minutes
Serves 4 - 6

Ingredients

6 cups assorted green vegetables (sliced courgettes, leeks, celery, asparagus, broccoli, cauliflower florets, chopped green pepper or bean sprouts)

Dressing

2 tablespoons honey
2 tablespoons white wine vinegar
1 tablespoon olive oil
1 teaspoon low salt soy sauce
1 tablespoon finely chopped fresh ginger
How to Make

Step 1

Chop the broccoli and cauliflower into florets.  Slice the rest of the vegetables.  Just use whatever you have to hand.  This is the beauty of this recipe.   Any green vegetables can be used.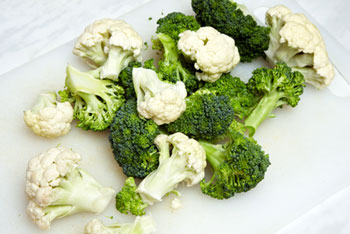 Step 2

Steam or microwave the vegetables. 

To steam:

Steam the vegetables for 8 – 10 minutes or until tender but still slightly crisp.

To Microwave:

Cover and cook the vegetables on high for 4 – 5 minutes.

Keep warm while you make the dressing.
To Make the Dressing
Mix all ingredients together and gently heat in a saucepan until the honey is melted.

Or alternatively place in a heat-proof bowl and cook in the microwave on high for 1 minute.
Serving
Drain the vegetables and pour over the hot dressing.  This dish should be served immediately.
Tip

Don't overcook your greens. They should still have some crunch.

You really need to use fresh ginger for this recipe. It won't work as well if you don't.