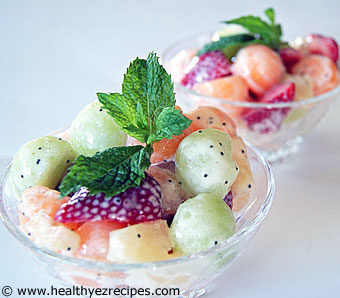 This fruit salad recipe looks so elegant.   Creating melon balls instead of simply chopping the melons into chunks gives the salad a classy look.

Topped off with a tangy honey and poppy seed dressing, this salad not only looks a million dollars but tastes just as good. 

Preparation Time: 13 minutes
Serves 6

Ingredients

   2 cups cantaloupe balls
   2 cups honeydew melon balls
   2 cups fresh pineapple, cut into chunks
   2 cups sliced strawberries
   Mint leaves to decorate

Dressing

   ½ cup low fat sour cream
   2 tablespoons low fat mayonnaise
   3 tablespoons chopped crystallized ginger
   2 tablespoons honey
   2 teaspoons white vinegar
   1 ¼ teaspoons poppy seeds

How to Make

Step 1

Cut the cantaloupe in half and scoop out the seeds.  Using a melon baller scoop out the center of the cantaloupe.

To do this push the baller into the fruit until the circular part is all the way in the fruit.  Then twist the baller a full 360 degrees and scoop the melon ball out.  You should have perfect balls of fruit.  Repeat the process until you have sufficient balls.

To prepare the honeydew melon, cut in half and scoop out the seeds.  Make the melon balls using the same technique above.


Step 2

Peel and cut your pineapple.  Although the recipe recommends fresh pineapple as it has much more flavor than the canned variety, you can substitute the canned if fresh is unavailable.

Step 3

Wash, hull and slice the strawberries.

Place all the ingredients into a large bowl.
Spoon the salad into individual serving bowls and drizzle over the dressing.   Decorate with a few mint leaves.  Serve immediately.
To make the dressing:
Add the sour cream, mayonnaise, honey, white vinegar and poppy seeds to a mixing jug and whisk.   Chop the crystallized ginger very finely and add to the dressing.


Tip

Dress the salad just before serving. If not ready to serve, place the fruit in a sealed container and store in the refrigerator.