Gluten Free or Flourless Chocolate Cake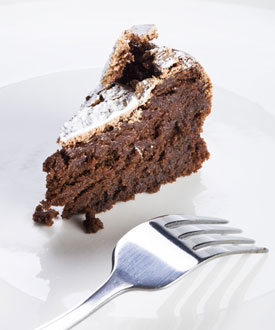 It took me a while to find a good flourless chocolate cake that was firm and moist and held its shape.  Let's face it, many just sink into the middle.
This recipe I believe fulfils those criteria.  In fact, this cake is so delicious you won't be able to tell the difference between this and one made with flour.  If you can't tolerate wheat flour or simply prefer to avoid it, there's now no reason to sit by and watch everyone else scoff down the cake. 
This cake is so good it can pass for an elegant dessert.  Just serve with cream and raspberries. 
To turn it into a mouthwatering afternoon tea, dust with cocoa.
Prep Time: 20 minutes
Cooking Time: 45 minutes
Serves 8

Ingredients
    200 g / 7 oz dark (bittersweet) chocolate
    200 g / 7 oz unsalted butter
    1/3 cup hot water
    ¼ cup cocoa powder
    4 eggs
    1 ½ cups brown sugar
    1 ½ cups almond meal
    1 teaspoon vanilla extract
Method
Step 1
Preheat the oven to 180°C / 350°F. Prepare your tin by lining the base and sides of a 25cm (11 inch) round cake tin with some baking parchment.   This will make it much easier to remove the cake.
Step 2
First you need to make the chocolate mixture.  To do this you need to place the chocolate, butter, water and cocoa into a medium sized saucepan.   Cook gently over a low heat for about 2 – 3 minutes or until the butter and chocolate have melted.   Keep stirring the mixture until it becomes smooth and glossy.
Transfer the chocolate mixture to a large mixing bowl and allow to cool slightly.    Otherwise if you try to add eggs to a hot mixture you will end up with curdled eggs.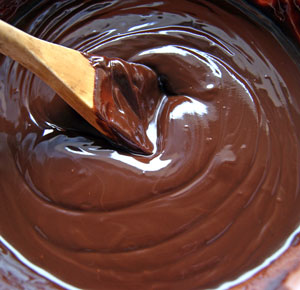 Step 3

Separate the eggs.  Lightly whisk the egg yolks then add to the cooled chocolate mixture.   Also add the sugar, almond meal and vanilla extract and stir until all the ingredients are combined.  Use a large metal spoon to stir all the ingredients together.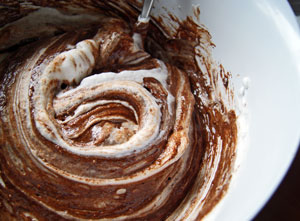 Step 4

Using an electric mixer with the whisk attachment, beat the egg whites until soft peaks form.  What does that mean?  It means that when you lift the beaters out the peaks don't hold their shape.

Gently fold a third of the egg whites through the chocolate mixture until almost incorporated.  Then repeat this process until all of the egg whites have been added.  Stir until just incorporated so the egg whites don't lose their volume.

Step 5

Pour the mixture into the prepared pan and bake in the oven for 40 – 45 minutes.  The cake should be firm to touch.   

Test for doneness before removing the cake from the oven.  Insert a toothpick or skewer in the center.  It should come out clean.  If not, return the cake to the oven for a further 5 – 10 minutes.
Leave for 10 minutes to cool before turning out onto a wire rack.
Serving
To serve dust the cake with powdered sugar or cocoa.
Variation