Minted Cucumber Tomato Salad

This cucumber tomato salad is simplicity itself because sometimes simple is best particularly if you are using nature's bountiful harvest such as sun-ripened tomatoes.  They have a taste all their own, which I hate to drown out with strong flavored dressings.

So our salad is dressed with a simple vinegar and oil vinaigrette, to which we have added some fresh mint.   The mint gives this salad a wonderful refreshing flavor.  I have used a very mild flavored white vinegar with a small amount of brown sugar to give a hint of sweetness.  
The success of this salad depends on using fresh, ripe ingredients because the flavour comes from the tomatoes which is balanced with the minted dressing.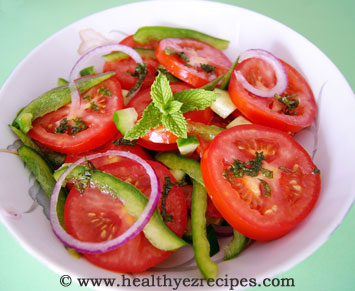 Preparation Time: 10 minutes
Marinating Time:  1 hour
Serves: 4

Ingredients

   4 tomatoes
   1 small cucumber
   1 green pepper (capsicum)
   1 red onion
   ¼ cup vinegar
   2 tablespoons extra-virgin olive oil
   1 teaspoon brown sugar
   2 tablespoons finely chopped fresh mint

How to Make

To prepare the vegetables:
Slice the tomatoes

Slice the peppers lengthways

Slice the onion into rings

Chop the cucumber into small chunks





(Tip:  use a variety such as Lebanese cucumbers, that don't need to be peeled, have less seeds and are less bitter than other varieties).



Arrange the tomato slices in a salad bowl, alternately layering with the cucumber, pepper and slices of onion

To make the Dressing

Place the vinegar, olive oil, brown sugar and chopped mint into a screw top jar and shake vigorously until well blended.

Pour the dressing over the salad and season to taste with salt and pepper. Leave to marinate for at least an hour.

Garnish with fresh mint leaves.



Tip

Letting the salad sit allows all the wonderful flavors to come together.