Light and Luscious Crustless Broccoli Quiche
If you love quiche but don't want the extra calories from the pastry then this crustless broccoli quiche is for you.    
A layer of breadcrumbs provides a base and gives the dish some crunch without adding the extra calories.  
Perfect as a light lunch, a leisurely brunch or as a filler for lunch boxes.   
This slice freezes well which makes it ideal as a stand-by.   Have serving-size portions wrapped and stored in the freezer, ready to serve when needed.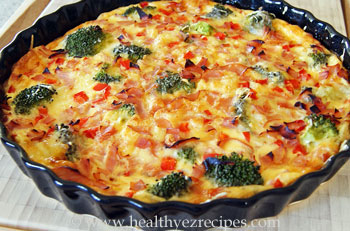 Preparation Time:  15 minutes
Cooking Time:  40 minutes
Serves 4 – 6
Suitable to freeze
Ingredients
2 tablespoons dried breadcrumbs
1 onion, chopped
4 cups broccoli florets
1 red bell pepper / capsicum, diced
75 g / 2 ½ oz shaved ham
1 cup grated low-fat tasty cheese
4 eggs
1 cup low-fat milk
1 teaspoon Dijon mustard
How to Make

To prepare your breadcrumbs, place a slice of grain bread in a food processor and process until crumby. Spread the crumbs out on a baking tray lined with baking paper and bake in a moderate 180°C / 350°F oven for about 5 minutes or until golden brown.

Lightly coat a non-stick skillet with non-stick spray and place over a medium-high heat. Add the onion and cook, stirring, for 5 minutes or until soft and transparent.

Meanwhile prepare the other ingredients. Cut the broccoli into small florets, de-seed and dice the bell pepper and dice the ham.

Spray a 22 cm / 9 inch pie or quiche dish with oil and sprinkle over the breadcrumbs. Arrange the onion, broccoli, capsicum and ham over the base. Grate some low-fat tasty cheddar cheese and sprinkle over the ingredients.

In a jug, whisk together the eggs, milk and mustard until well blended. Season with freshly ground pepper. Pour over the vegetable mixture.

Bake for 35 – 40 minutes or until the top is golden and a wooden pick inserted in the center comes out clean. Let stand for 10 minutes before cutting into wedges.
Serving
This quiche is great served hot or cold.
Serve with salad.
Home » Crustless Broccoli Quiche