Savory Cornmeal Muffins with Cheese

Two very different but equally delicious cornmeal muffin recipes.    

Both are filled with cheese, but one is made with grilled capsicum or peppers.  Grilling and blackening the skin of peppers gives them a nice sweet taste.  This makes them a perfect addition to baked goods.  Personally these are my favorites.

The other uses ham, onions and creamed corn for that extra corn flavor.

These savory muffins would be great served with soup, barbecued food or a salad.  They also make an ideal lunchbox filler.
Cornmeal Muffins with Grilled Peppers

Preparation Time:  20 minutes
Cooking Time:  25 minutes
Makes 12
Ingredients

   1 red pepper
   1 clove garlic, roughly chopped
   ¼ teaspoon cayenne pepper
   6 green onions, finely chopped
   2 teaspoons brown sugar
   2 cups self-raising flour
   ¼ cup cornmeal
   ½ teaspoon salt
   60 g / 2 oz butter
   ½ cup grated low-fat cheese
   1 egg, lightly beaten
   1 1/3 cups buttermilk
How to Make

Preheat the oven to 190°C / 375°. Line a muffin tray with paper cases.

Cut the pepper into halves and remove the seeds. Place with the skin upright under a preheated griller and cook until the skin has blackened and blistered. Allow to cool then peel away the skin. Finely chop the pepper. Transfer to a mixing bowl and add the garlic, cayenne pepper, green onions and sugar and give a quick stir.





Sift the flour into a large mixing bowl. Add the cornmeal and salt. Cut the butter into tiny pieces and add to the flour mixture. Rub the butter into the flour using your fingers until the mixture is crumbly.

(Or you could do this using a food processor. Just throw the ingredients into the processor bowl and pulse for about 30 seconds.)

Now add the cheese, the capsicum mixture, egg and milk and stir until just combined. It will look lumpy, but that's okay, it's supposed to.

Spoon into the patty cases and bake in the oven for about 20 minutes or until golden brown and firm to the touch on top. Turn out onto a wire rack and leave to cool.
---
Ham and Cheese Cornmeal Muffins
Preparation time:  15 minutes
Cooking Time:  20 minutes
Makes 12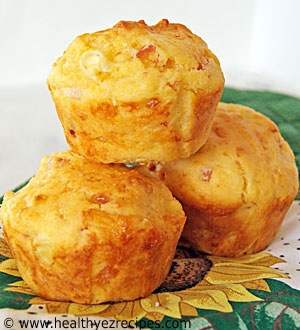 Ingredients

   ¾ cup cornmeal
   1 tablespoon sugar
   1 ¾ cups all-purpose /plain flour
   1 tablespoon baking powder
   2 tablespoons oil
   1 egg, lightly beaten
   1 ½ cups skim milk
   125 g / 4 oz can creamed corn
   4 green onions, thinly sliced
   150 g / 5 oz shaved light ham, chopped
   ½ cup reduced-fat cheese, grated
How to Make

Preheat the oven to 200°C / 400°F. Fill a 12 hole muffin tin with paper cases.

Sift the flour and baking powder into a bowl and add the polenta and sugar then whisk to combine.

Place the oil, egg and skim milk in a separate bowl and whisk together. Make a well in the center of the flour mixture and pour in the egg mixture. Using a large metal spoon gradually start mixing the ingredients together until about half mixed.

Add the creamed corn, green onions, ham and cheese and continue mixing until just combined. Do not overmix. The mixture should still be lumpy.

Spoon the mixture into the muffin cases and bake for 20 minutes, or until risen and golden brown. Leave in the tin to cool for 5 minutes before turning out onto a wire rack to cool completely.

I've used ham because lean ham is low in fat.  However, you could use bacon instead.  Just use the leaner short-cut bacon with all the fat removed.