Chicken Waldorf Salad

This is a wonderful variation of the famous waldorf salad with the addition of chicken.

Chicken waldorf salad is substantial enough to be eaten as a main course.  Using all the ingredients for which the original waldorf salad is famous, the addition of the chicken transforms it from a side salad into a delicious main meal.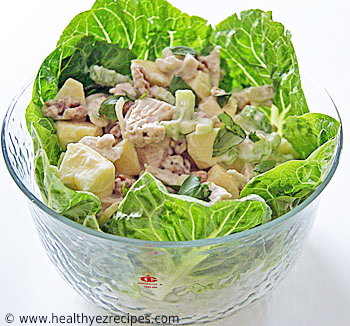 Prep Time: 15 minutes
Cooking Time: 25 minutes (cooking the chicken)
Serves 4

Ingredients

    2 chicken breast fillets
    2 red apples
    2 celery stalks
    4 shallots, sliced
    1 cup chopped walnuts
    2 tablespoons lemon juice
    ½ cup low fat mayonnaise
    3 tablespoons low fat sour cream
    1 baby cos (romaine) lettuce
    Herbs to garnish
How to Make
Step 1

Poach the chicken breast fillets in chicken stock.  Remove from the stock and allow to cool.

I prefer to use poached chicken for this recipe.    Poaching the chicken makes it tender and moist and is ideal for salads.

Step 2

Cut the apples into bite-sized pieces and place in a bowl. Sprinkle over the lemon juice.  This will prevent them becoming brown and unsightly.

You can use red or green apples for this recipe and leave them unpeeled for added color.   Your choice.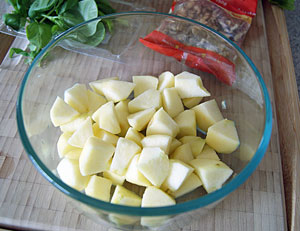 Step 3

Using a sharp knife, slice the celery and shallots.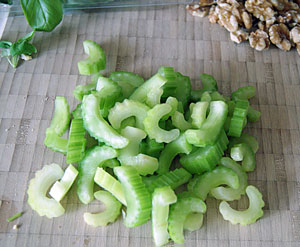 Step 4

Chop the chicken into bite-sized pieces.  You will need 2 chicken breast fillets for this recipe.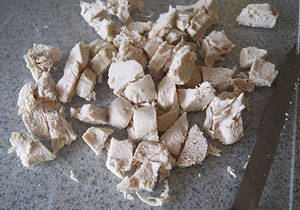 Step 5

To make the dressing mix the mayonnaise with the sour cream in a small bowl.

Drain off the lemon juice from the apples.

Place the chicken, apples, celery, shallots, walnuts and dressing in a large mixing bowl. Mix together until all the ingredients are well combined.
 


How to Serve

To assemble the salad, separate the lettuce leaves and use them to line a serving bowl.   Spoon the waldorf salad into the bowl.   Garnish with the chopped tarragon.