Spanish Chicken Pilaf
This Spanish inspired chicken pilaf has a wonderful smoky flavor thanks to the chorizo and smoked paprika.

Rice is a great filler and when combined with meat such as chicken, makes for an inexpensive meal.  Add chorizo, pepper, tomatoes and paprika and you also have a very tasty one.

The flavors of this dish are simply superb.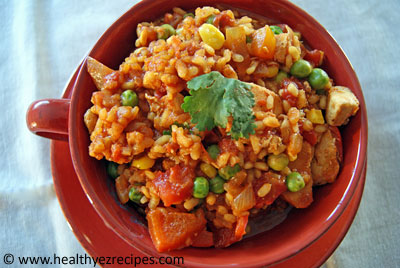 Preparation Time:  20 minutes
Cooking Time:  40 minutes
Serves 4

Ingredients

   2 tablespoons olive oil
   500 g / 1 lb chicken thigh fillets
   1 medium brown onion
   1 clove garlic
   1 teaspoon smoked paprika
   ½ teaspoon ground turmeric
   1 red bell pepper (capsicum)
   2 chorizo sausages
   1 cup medium-grain white rice or basmati
   400g / 14 oz can chopped tomatoes
   1 ½ cups chicken stock
   150 g / 5 oz frozen peas and corn
   1 tablespoon finely grated lemon zest
   1 tablespoon lemon juice
   ½ cup coarsely chopped flat-leaf parsley
   1/3 cup black olives
How to Make

Step 1
Preheat oven to 180°C / 350°F.  Chop chicken into 3 cm / 1 inch pieces.  Take a flameproof dish or large pan and heat the oil over a moderate heat on the stove.   Cook chicken in batches for 3 – 4 minutes until the chicken is browned to seal in the juices. 
If you don't have an oven-proof pan transfer the chicken to a 2.5 litre / 2.5 quarts (10 cup) casserole dish.

Step 2
Finely chop the onion, coarsely chop the pepper and slice the chorizo.  Add onion, garlic, paprika, turmeric, pepper and chorizo to dish.  Cook and stir for 5 minutes or until vegies soften.  You may need to add a little more oil if the pan is too dry.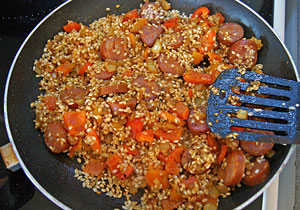 Step 3
Add the rice and continue cooking and stirring for a minute until the rice is coated with the mixture.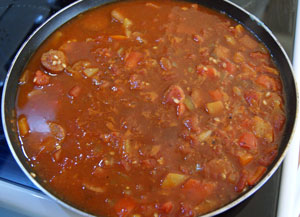 Step 4
Add the tomato and stock and bring to the boil.   Transfer the mixture to the casserole dish, cover with a tight fitting lid and bake for 25 – 30 minutes.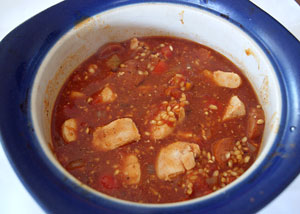 Step 5
Remove from the oven.  Add the peas and corn, lemon zest and lemon juice.  Cover, return to the oven and continue baking for a further 5 – 6 minutes or until heated.  

Remove from the oven and leave to stand for 5 minutes without removing the lid.
Add parsley and olives. 

Serve this chicken pilaf with crusty bread.

Cook's Note

Chorizo has a distinctive flavor and a little goes a long way, but it is necessary for this dish to get those lovely Spanish flavors.
If you are watching your weight and are worried about the chorizo, simply use one sausage instead of two.