Creamy Chicken and Corn Soup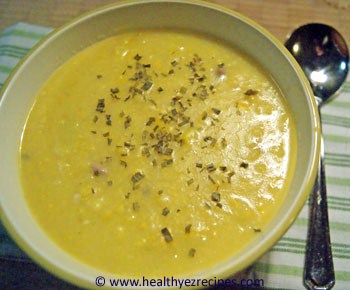 This chicken corn soup is deliciously hearty and creamy, yet it uses no cream.  How is this achieved?   By using potato instead.  The potato is cooked with the soup, pureed and returned to the soup.
The result is a rich, thick, creamy soup that is healthy and fat free without compromising on the taste.

Preparation Time:  15 minutes
Cooking Time:  1 hour 8 minutes
Serves 4 - 6

Ingredients

   1 tablespoon oil
   500 g / 1 lb chicken thigh fillets
   2 garlic cloves, chopped
   1 leek, chopped
   1 large celery stalk, chopped
   1 bay leaf
   ½ teaspoon thyme
   4 cups chicken stock
   2 cups water
   500 g / 1 lb corn kernels
   1 large floury potato
   Chives to garnish
How to Make

Step 1

Chop the chicken into fairly thin slices.   I find it is easier to do this if your chicken is partly frozen.

Heat the oil in a large saucepan over high heat.  Cook the chicken in batches until just cooked through.  Place in a bowl, cover and refrigerate until needed.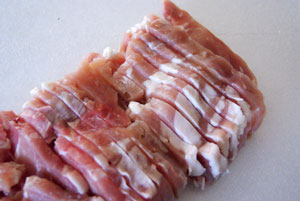 Step 2

Cut the leek in half lengthways then chop into smaller slices.  Chop the celery and garlic cloves.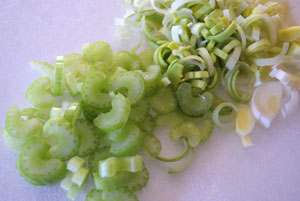 Step 3

Add the leek, celery, garlic and thyme to the pan, reduce the heat to medium and cook for 2 minutes, or until the leek softens.  I used fresh thyme for this recipe, but you could use dried.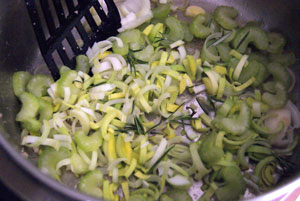 Step 4

Add the stock and 2 cups water and stir.  Peel and roughly chop the potato.   Add the corn and potato to the pan and bring to the boil.  Reduce the heat and simmer for 1 hour, skimming any scum off the surface.  Cool slightly.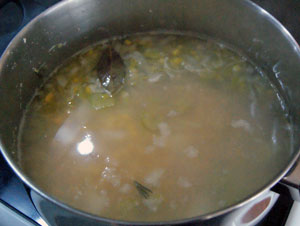 Step 5

Remove the bay leaf.  Add the vegetables and some of the stock to the bowl of a food processor and start processing.  Keep adding more stock until you reach the desired consistency.   You can make this soup as smooth, chunky, thick or thin as you like.  I preferred to make it fairly thick and a little bit chunky.
Return the soup to the pan and add the chicken and stir over medium-low heat for 2 – 3 minutes or until heated through.  Season to taste.

To Serve
To serve, spoon into serving bowls and garnish with chives.

Good to Know

You can use fresh, tinned or frozen corn for this recipe.