Chicken Cacciatore Recipe

An Italian classic, this Chicken Cacciatore recipe is one of the best. Simple and easy to make, yet low in calories and fat, it has a rich tomato sauce.

All good cacciatore recipes start with a great sauce. This one is achieved with the addition of white wine, which is then reduced. This intensifies the flavor and thickens the sauce.

Enjoy the flavors of Italy with this recipe. A rich, tasty dish that will fill your kitchen with the most wonderful aromas.

Prep Time: 10 minutes
Cooking Time: 1 hour
Serves 4

Ingredients

    1 tablespoon olive oil
    500g / 1 lb chicken pieces
    1 medium brown onion, finely chopped
    1 garlic clove, crushed
    3 anchovy fillets, chopped
    2 tablespoons tomato paste
    ½ cup dry white wine
    1 can diced tomatoes
    1 teaspoon caster / superfine sugar
    ½ cup water
    ½ cup pitted kalamata olives, halved
    Chopped parsley

How to Make
Step 1
Prepare your ingredients by chopping the onion and anchovy fillets and crushing the garlic clove.

Step 2
You will need a deep, heavy-based fry pan with a lid. Heat 1 tablespoon of olive oil in the pan and cook the chicken on a medium-high heat until browned on both sides.  This will take about 5 – 7 minutes. You don't want to cook the chicken through, simply brown the outside.


Step 3
Transfer the chicken to a plate. To the same pan add the onion, garlic and anchovy and cook, stirring until the onion is soft. Stir the onion occasionally to prevent it burning.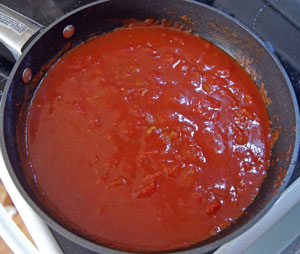 Step 4
Add the tomato paste and continue cooking for a minute. Then add the wine. Continue cooking the wine for about 2 – 3 minutes until the liquid has reduced down by half.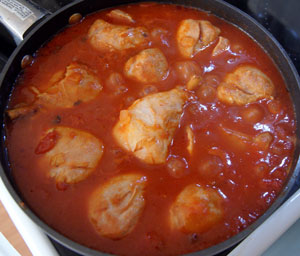 Step 5
Add the tinned tomatoes, sugar and ½ cup cold water. Bring to the boil and return the chicken pieces to the pan. Reduce the heat, cover and leave to simmer for 35 – 40 minutes or until the chicken is cooked through.


Step 6
Once the chicken has cooked through, add the olives and sprinkle over the chopped parsley. Return to the heat and cook for a further 2 minutes.


Serve your chicken cacciatore with vegetables or pasta.

Tips

If you don't like cooking with wine, simply substitute chicken stock.
When cooking with wine, always use good quality drinking wine. If you wouldn't drink it, then don't cook with it.