Bruschetta is so easy anyone can make it.  All you really need is day-old bread, olive oil, garlic and tomatoes. 
These days of course there is no need to just stick to the basic traditional recipe.  There are so many bruschetta recipes which are exciting, inventive and all equally delicious.
Serve as a light lunch, an elegant appetizer for special occasions, top with strawberries for dessert or top with scrambled eggs and crispy bacon and turn it into a hearty breakfast.  What other food can be served so many different ways?
The secret to a good bruschetta is to get the balance of flavors right.    Because of its simplicity you need to use the best and freshest ingredients. 
---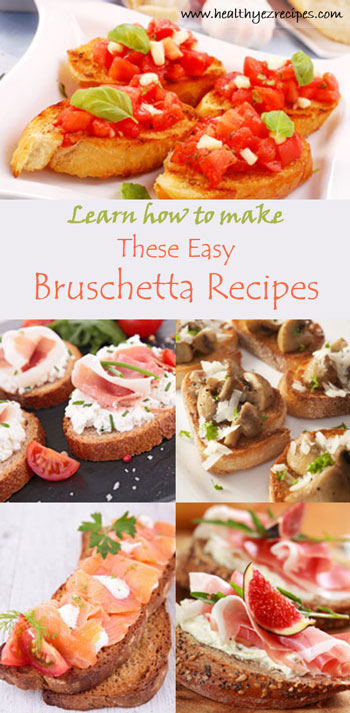 Bruschetta With Tomato And Basil
Tthis is the traditional buschetta.  The star of the show is the tomatoes so use the best quality you can find.  I recommend using Roma tomatoes.
Ingredients
   4 roma tomatoes, chopped
   2 tablespoons diced red onion
   2 tablespoons chopped basil
   1 crushed garlic clove
   Drizzle of olive oil
Toss together tomatoes, red onion, basil and garlic and drizzle over olive oil.  Pile ingredients onto prepared bases.

Smoked Salmon Bruschetta
Ingredients
    125 g / 4 oz crème fraiche
    1 tablespoon chopped capers
    1 tablespoon red onion, diced
    1 tablespoon lemon juice
    Smoked salmon
    Dill
In a mixing bowl mix together the crème fraiche, chopped capers, red onion and lemon juice.    Spread mixture over bruschetta bases.
Top with slices of smoked salmon and fresh dill.

---
Roasted Pumpkin and Feta
Ingredients
   500 g / 1 lb butternut pumpkin
   1 tablespoon olive oil
   1 tablespoon balsamic vinegar
   100 g / 3 ½ oz feta
   Rocket for garnish
Peel and cut the pumpkin into cubes then toss in the combined olive oil and balsamic.  Preheat the oven to 180°C / 350°F.  Arrange the pumpkin pieces on a baking tray and cook for 20 minutes. 
Arrange the cooked pumpkin over four thick slices of toasted sourdough.  Crumble the feta over the top and add a few rocket leaves.


---
Fig and Prosciutto Bruschetta
Ingredients
   2 tablespoons spreadable low-fat cream cheese
   4 large figs, thinly sliced
   6 slices prosciutto, thinly sliced crossways
   1 tablespoon lemon thyme leaves
Spread cream cheese over garlic side of bruschetta.   Top with fig slices arranging them so they are slightly overlapping and then prosciutto.
Sprinkle with thyme leaves and freshly ground black pepper. 
---
Mushroom and Herb Bruschetta
Ingredients
   2 tablespoons olive oil
   200 g / 7 oz button mushrooms, sliced
   Juice and rind of 1 lemon
   ¼ cup flat-leaf parsley leaves, chopped
   2/3 cup crème fraiche
Heat oil in a large non-stick frying pan over high heat.  Slice the mushrooms and add to the pan.  Cook, stirring often for 5 minutes or until light golden and the juice has evaporated.  Pour over 2 tablespoons lemon juice and stir to combine.  Remove from heat.  Add half the parsley and season with salt and pepper.  Set aside for 5 minutes to cool.
Meanwhile, combine crème fraiche, lemon rind and remaining parsley in a bowl.  Spread over warm bruschetta and top with the mushroom mixture.  Season with pepper and serve.

---
4 Easy Steps to Bruschetta