Healthy but Luscious Blueberry Cake Recipe
Blueberry cake is such an easy way to use those summer blueberries.
The addition of blueberries automatically makes any cake healthy, but we've taken it one step further.  We've omitted the butter and replaced it with apple sauce and sunflower oil, the sugar has been reduced and the milk has been replaced with buttermilk.
The result is a wonderful blueberry cake recipe that produces a soft texture that is beautifully moist with bursts of blue dotted here and there.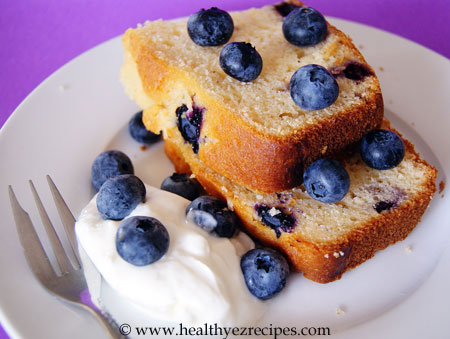 Preparation time: 10 minutes
Cooking time: 1 hour
Serves 8 - 10
Ingredients
   ½ cup sunflower or canola oil
   3 eggs
   ¾ cup caster sugar / superfine sugar
   3 teaspoons vanilla extract
   ¾ cup buttermilk
   ½ cup apple sauce
   2 ½ cups self-raising flour
   1 - 1 ½ cups fresh or frozen blueberries
   Extra blueberries to serve
How to Make

Step 1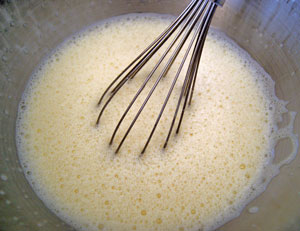 Preheat oven to moderate, 180°C / 350°F.  Lightly grease the bottom and sides and line the bottom of a 20 cm / 8 inch square cake pan with baking paper.
In a small bowl, whisk together the oil, eggs, sugar, vanilla and buttermilk until thick.   You can do this with the whisk attachment of an electric mixer and will take about 4 – 5 minutes to get it nice and thick.

Step 2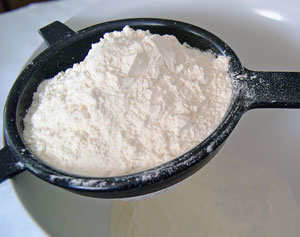 Sift the flour into a large mixing bowl.  Add the egg mixture to the flour mixture alternately with the apple sauce and stir until the mixture is smooth. 

Step 3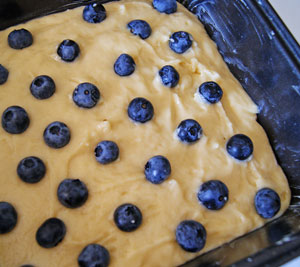 Reserve about two dozen berries and fold the remaining berries into the batter.
Pour the batter into the prepared pan.   Take the reserved berries and push them gently into the top of the batter.

Step 4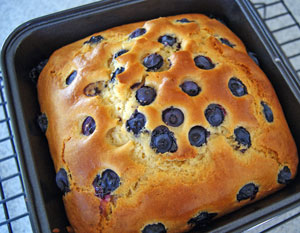 Bake for 55 – 60 minutes until cooked.  To test a skewer inserted into the center should come out clean.
Leave the cake in the pan until it is cool enough to remove.  Then turn out onto a wire rack to cool completely.


Serving
Cut into slices and serve with extra blueberries and yogurt.
Tip

When mixing blueberries into batter, coat them in flour first.  This prevents your cake turning blue and prevents them sinking to the bottom.