Roasted Beetroot Dip
Nothing looks quite as inviting as beetroot dip with its rich burgundy color.    So colorful and flavorful.
While beetroot has plenty of flavour, roasting adds another layer.  I always think roasting brings out the naturally sweet and earthy flavour of fresh beetroot, something that can't be found in a can.

Add in some roasted cashews and you have a dip worthy of any food gathering.   This has so much flavor, you'll become hooked.

Serve this at your next party, picnic or simply have on hand as a snack.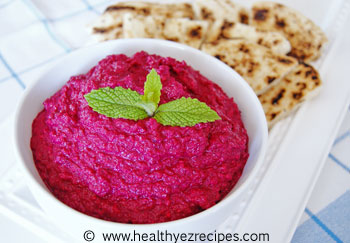 Preparation time:  20 minutes
Cooking time:  1 hour 30 minutes
Serves 8


Ingredients

   5 medium-size beetroots
   ½ cup raw cashews, roasted
   1 cup low-fat plain yogurt
   1 garlic clove, crushed
   2 tablespoons grated parmesan cheese
   ¼ cup fresh lemon juice
   1 tablespoon extra-virgin olive oil
   ½ teaspoon ground cumin
   ½ teaspoon ground coriander
   1 teaspoon sweet paprika


How to Make

First you need to toast the cashews.  Learn How
Step 1
Preheat the oven to 200ºC / 400°F and line a baking tray with baking or parchment paper. 

Prepare the beetroot by trimming the stalks then wash and gently scrub the skins to clean them.

Wrap the beetroot in foil.  Arrange on the baking tray, place in the oven  and roast for about 1 hour 15 mins or until they are tender.  Remember to turn them occasionally. 
Step 2

Remove from the oven, open foil and leave to cool for 10 minutes.  Using a sharp knife remove stems, then gently peel the skin from the still warm beetroot and discard.  The skin should come off quite easily.    (It is recommended you wear latex gloves for this, unless you want bright pink hands.)
Step 3

Roughly chop the beetroot and place into a food processor with the cashews and process until finely chopped.
Step 4

Then add the crushed garlic clove, cheese, lemon juice, olive oil, cumin, coriander and paprika and process until thoroughly mixed.    It's up to you whether you prefer your dip perfectly smooth or with some texture.  Season with salt and pepper to taste.  
Leave in fridge until ready to serve.  This allows the flavors to develop.
Serving
Transfer to a serving bowl and serve with carrots, crackers or flat bread.